17.5 mins before the act of 'zen balancing'
It is useful to have something to sit on of course - when contemplating the next action amidst the chaos of creation.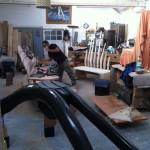 And under that seemingly innocuous orange blanket on the bench on the right is the latest incarnation of the 'Nimm' chair pattern - 'Vanimm'. Yes, the blanket is orange! (faded) and yes, the chair is very good indeed. Features a revised ergonomic profile that really must be sat in to believe how comfortable a minimal wooden chair form can truly be. More on 'Vanimm' in due course. Experience it for real this weekend at 'Inspired'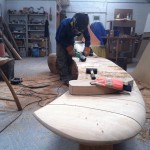 In 'Space' at the cutting edge of creation.